Norishige Kanai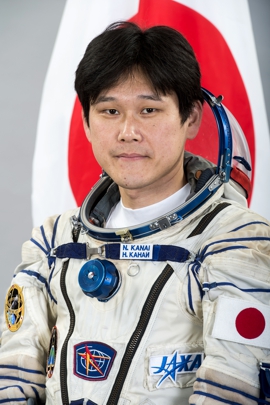 JAXA astronaut (Japan)
BIRTH DATE AND BIRTH PLACE: Norishige Kanai was born in 1976 in Tokyo and then brought up in Chiba.
EDUCATION:
He graduated from National Defense Medical College (Hospital) in March 2002.
EXPERIENCE:
After graduation, he worked as a surgeon and a Diving Medical Officer at National Defense Medical College (Hospital), Japan Self Defense Force Ohminato Hospital, Japan Self Defense Force Hospital Kure, and the 1st Service School of the Japan Maritime Self Defense Force.
TRAINING FOR SPACE MISSIONS:
He was selected to be an astronaut candidate by Japan Aerospace Exploration Agency (JAXA) and joined JAXA in September 2009.
Since September 2009, he has participated in about two years of Astronaut Candidate (ASCAN) Training at NASA, which includes scientific and technical briefings, intensive instruction on the ISS systems, Extravehicular Activity (EVA), Robotics, physiological training, flight training using the T-38 jet trainer, and water and wilderness survival training.
He completed all basic training requirements, and was certified as an ISS astronaut in July, 2011.
Kanai participated in the 20th NASA Extreme Environment Mission Operations (NEEMO 20) from July — August, 2015.
In August 2015, he was assigned as a flight engineer for the ISS Expedition 54/55 mission.