Sergey Prokopyev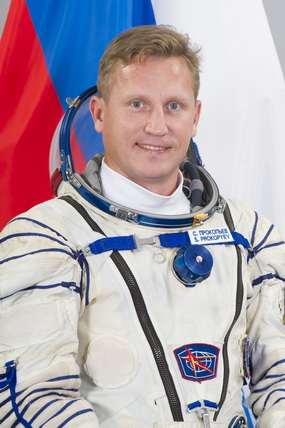 Test Cosmonaut of ROSCOSMOS, Russia
Lt. Colonel of reserve, Armed Forces of the Russian Federation
BIRTH DATE AND BIRTH PLACE: Born on February 19, 1975 in Sverdlovsk (now Yekaterinburg).
EDUCATION:
In 1992 he finished secondary school No.64 in Yekaterinburg.
In 1997 Sergey Prokopiev graduated from the Tambov Higher Military Pilot School specializing in Command Tactical Aviation, Air Movement Control and was qualified as a pilot-engineer.
At a period of 2002 — 2005 he studied at Michurinsk State Agrarian University specializing in Accounting, Analysis and Audit, upon completion of his study he was qualified as Economist.
EXPERIENCE:
In 1997 — 2007 he served as Deputy Commander of the aircraft; his service was provided in such cities as Orsk, Ryazan and Vozdvizhenka.
In 2007 — 2009 he served as commander of the Tu-22М3 aircraft, commander of the air detachment of the 52-nd Heavy Bomber Aviation Regiment at Long-range aviation Air Base Shaikovka, Kaluga region. Combat participant.
In 2009 — 2010 he served as the aircraft commander and since 2010 — as commander of aviation group of strategic bombers Tu-160 of the 121-st Heavy Bomber Aviation Regiment at Long-range aviation Air Base Engels, Saratov region.
He participated in the military parade on May 9, 2010 flying the Tu-160 over the Red Square.
Sergey Prokopiev flied the Yak-52, L-39, Tu-134UBL, Tu-22М3 and Tu-160 and had logged more than 850 hours (by September 2011).
TRAINING FOR SPACE MISSIONS:
January 31, 2011 Sergey Prokopiev he was enlisted as a candidate to Cosmonaut Detachment.
From February, 2011 till July, 2012 he began to pass general space training.
On August 6, 2012 at the meeting of the Interdepartmental Qualification Commission (IDQC) to assess the training of candidates for test cosmonauts (selection of 2010) he was qualified as a test cosmonaut.
From August, 2012 till June 2015 he passed training as a member of group with specialization on Soyuz TMA-M and ISS.
From June, 2015 till September 2015 he trained as an ISS-45/46/VE-18 backup crewmember as a flight engineer of the manned spacecraft Soyuz TMA-M and as a backup member of a 10-day ISS visiting Expedition.
From March, 2017 till December 2018 he passed traning as an ISS-54/55 backup crewmember as a commander of Soyuz MS and a flight engineer of the ISS.
Since December, 2017 he has been training for a space mission as a member of the main crew of ISS-56/57 as a comander of the manned spacecraft Soyuz MS-09 and a flight engineer of the ISS.
HONORARY RANK AND AWARDS:
Decorated with Military Service Order
Medals of the Ministry of Defence of the Russian Federation for Meritorious Military Service Second and Third Classes,
Medal for Participation in a Military Parade on Victory Day.
HOBBY: history, football, badminton, underwater hunting.