Mission Control Center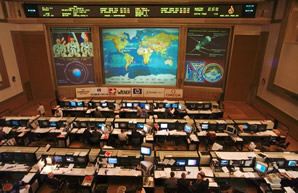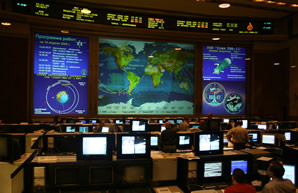 Mission Control Center (MCC) is a unit that manages aerospace flights. MCC is often part of an aerospace agency. The Mission Control Center of the Russian Federal Space Agency (Russian: Центр управления полётами, also known by its acronym Цуп («TsUP») is located in Korolyov, near the RKK Energia plant. Russian Mission Control Center is the biggest space-research department of Russian Space Agency. RMCC ensures the space flights control of manned spacecrafts, interplanetary automatic stations and artificial satellites. It contains an active control room for the ISS, and a memorial control room for the Mir. In the latter the last few orbits of Mir before it burned up in the atmosphere are shown on the screen.
The main task of the MCC is to manage space missions, usually from the point of liftoff until the landing or the end of the mission. A staff of flight controllers and other support personnel monitor all aspects of the mission using telemetry. The training for these missions usually falls under their responsibility as well.
We offer you to visit this unique Mission Control Center in Korolev. You'll learn about the history, work and structure of MCC. You'll see the Flight Control Room of Mir Space Station and Flight Control Room of International Space Station. You'll possibly have an opportunity to witness a session of communication with crew of ISS.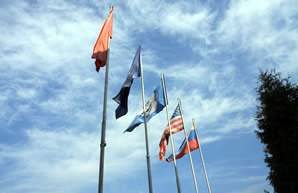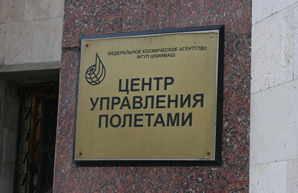 Formalities:
For the organization of the visit to the MCC you should send an application at least 10 days before the excursion with the list of participants' personal data enclosed.
You will find all the necessary documents here.
+7 (495) 506-32-23
+7 (495) 662-45-99
For more information about the organization of the program please contact our managers by phone, e-mail or Skype.

HAVE A QUESTION?
Feel free to use our contact form to send online message. We will answer you shortly.