Vegitel introducing MultiAngle video technology
We proudly present Vegitel Multiangle, the unique product that has no parallel in the aerospace tourism market.
The film about your flight is created with help of the high-end system of 6 synchronized action cameras, certified for filming at supersonic speed, in the stratosphere, in case of significant temperature changes and under high G-forces. Three of them are installed outside and provide the front view, the rear view and the side view. The other three cams are mounted in the front cabin, rear cabin and on your helmet. Video recording provides a footage with FullHD quality. Special sensors record real-time flight parameters – speed, Mach number, altitude and G-load. At the same time voice recording system registers all cockpit conversations.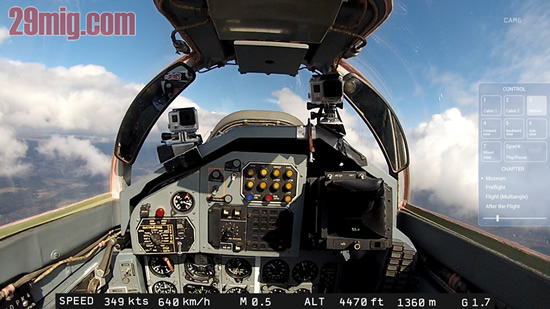 Besides the general film our customers receive the full flight video footage in a special multiangle format, which makes it possible to change cameras at any moment of time switching the angle and the view. At the bottom of each view you've got a parameter line, displaying data about current velocity, Mach number, altitude and G-loads of every moment of time.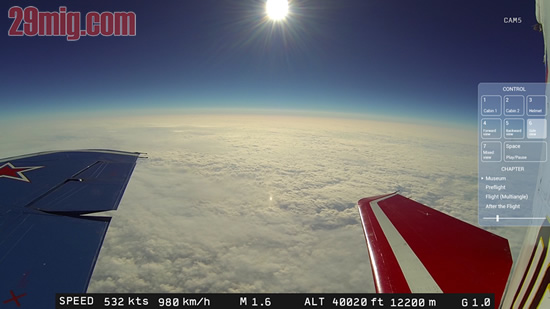 You can watch the Vegitel MultiAngle video both at any PC or laptop with the help of specially developed media player or at any home Blue Ray player.