Museum of the Russian Air Force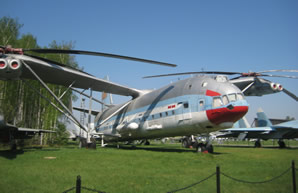 We invite you to visit a unique museum of the Air Force of the Russian Federation.
In the 38th kilometer to the south-east of Moscow in the green coniferous forests there is a museum, first in our country, where genuine samples of the Air Force equipment are presented. In this museum one can see various planes, helicopters, aircraft engines, armament, and rescue facilities, relating to the whole history of the national aviation from 1909 to present.
In the halls there are exhibits of models of airсrafts, unique photo materials and rare documents, which exceeds 37 000.
One should note that the museum exposition includes not only what is related directly to the Air Force of USSR and Russia; it also reflects the past of national civil aviation and aeronautics.
In 1940 it was decided to allocate the Academy of Air Force in Monino. At that time Monino had already possessed an excellent aerodrome where the air squadron of the Academy could be based. During the WWII units of active Air Forces were based on Monino aerodrome including the long-range bombers IL-4.
The flights with students of the Academy were performed until April 4, 1956 when the aerodrome became too small for high-speed aircrafts and it was impossible to make it longer. The best way out for using the vacant area was found – the Air Force exhibition was organized there.
In 1958, the museum acquired a bomber Tu-4, the fighters La-15 and La-11, the training planes Po-2, Yak-18, one glider, 20 aircraft machineguns and guns.
By August 1959 the efforts in preparing the place and organizing the exhibits had been finished. The exhibits were prepared for exhibiting; many authentic historical materials and documents were collected and placed.
And on February 23, 1960 the Museum of Air Force was open for attendees. It consisted of 586 storage units, among them 14 planes.
Every year the museum is attended by more than 150 thousand people – schoolchildren, students, workers, military people, etc. More than 4 million visitors have attended the museum during almost 50 years of its existence. And this amount increases every day.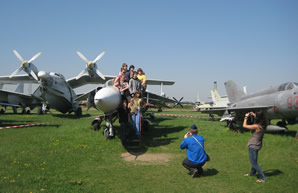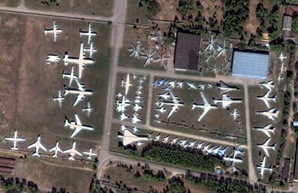 Formalities:
For the organization of the visit to the museum you should send in an application at least 10 days before the excursion with the list of the participants' personal data enclosed.
+7 (495) 506-32-23
+7 (495) 662-45-99
For more information about the organization of the program please contact our managers by phone, e-mail or Skype.
HAVE A QUESTION?
Feel free to use our contact form to send online message. We will answer you shortly.