Andrey Borisenko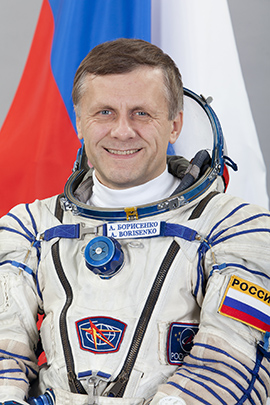 Hero of Russian Federation,
ROSCOSMOS 3-d class Test Cosmonaut
DATE AND PLACE OF BIRTH:
April 17, 1964, Leningrad, Russia.
EDUCATION:
1987 – graduated from Leningrad Military Mechnical Institute (now BSTU "Voenmekh" after D.F. Ustinov)
WORK EXPERIENCE:
1987-1989 – worked as a civil employee in the Navy.
Since 1989 he worked at NPO (RSC) Energia where till 1999 he worked in the Mir Orbital Complex onboard systems analysis group of the Main operations control team at MCC-M. Since 1999 till the beginning of general space training he worked as a shift flight director (SFD) at MCC-M first of the Mir Orbital Complex (directly participated in operations for the Mir Orbital Complex de-orbit) and then under the ISS program.
May, 2003 – at the meeting of the Interdepartmental Committee for the cosmonaut selection he was enlisted in the cosmonaut detachment to pass general space training.
June, 2003 – he began general space training which he completed on June 27, 2005 having passed graduation examinations with an excellent mark.
On July 5, 2005 by decision of the Interdepartmental Qualification Committee (IDQC) he was qualified as a test cosmonaut.
2005-2008 – passed space training course.
August, 2008 – April, 2009 – participated in training as ISS-24/25 backup crew member.
April, 2009 – April, 2010 participated in training as ISS-23/24 backup crew member, ISS onboard engineer, commander of Soyuz -TMA spacecraft.
April, 2010 – April, 2011 participated in training as ISS-27/28 prime crew member, ISS-27 onboard engineer and ISS-28 commander.
December, 2014 – February, 2016 participated in training as ISS-47/48 backup crew member, ISS and spacecraft onboard engineer.
Since March, 2016 participated in traning as ISS-49/50 prime crew onboard engineer and Soyuz MS-02 onboard engineer.
SPACE FLIGHT EXPERIENCE:
Andrey performed his first space flight at a period of April 5 to September 16, 2011 as ISS-27 and Soyuz TMA-21 spacecraft onboard engineer and commander of ISS-28. The mission duration was 164 days.
AWARDS AND RANKS:
Pilot-Cosmonaut of the Russian Federation.
Gold Star Medal of Hero of the Russian Federation,
ROSCOSMOS Award, Gagarin Sign,
NASA Space Flight Medal and Distinguished Public Service Medal.