Centrifuge training
Attention!
Big Centrifuge TsF-18 is not available now for visiting due to maintenance works.
Attention!
Neutral buoyancy lab is not available now for visiting due to maintenance works.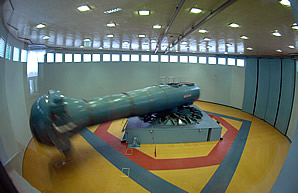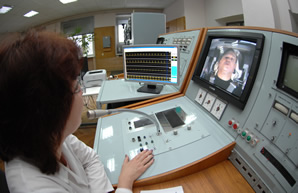 You are brave and want to test yourself? You dream of feelings that cosmonauts experience during their real training for space flights? Then Centrifuge training is what you need.
The aim of centrifuge rotation is to train cosmonauts for working under conditions of real G-loads during the insertion and descent of spacecraft Soyuz-MS.
Centrifuge is also used for carrying out training and medical examination of cosmonauts and military pilots, scientific experiments and tests of space, aviation and scientific equipment. For such purposes GCTC effectively uses Centrifuges TsF-7 and TsF-18 with the rotation radiuses 7 and 18 meters respectively.
Centrifuge TsF-18 has been used since 1980 for cosmonaut's selection and training by simulating the bad factors of space flight such as longitudinal g-load, physiological microgravity, low cabin pressure, different temperatures, humidity, gas composition of the cabin's air. It is the biggest centrifuge in the world and has unique technical features. The weight of the centrifuge rotating elements is 300 t and the shoulder radius is 18m. Maximum load is 30g. During the centrifuge training cosmonauts are affected by maximum load varying from 5g for "head-waist" direction and 8g for "chest-back" direction.
There is a medical-psychological complex to ensure cosmonauts' health monitoring during training.
A specialized Soyuz-TMA dynamic simulator of the controlled descent was made on the basis of the Centrifuge.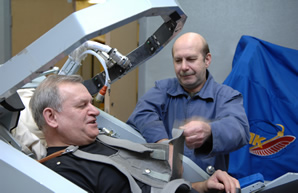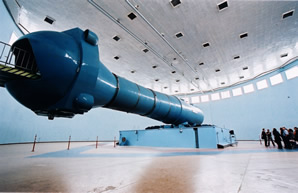 Program:
Arrival at Star city
Medical examination. Instruction on safety arrangements and rules of behavior in case of off-nominal situations
Wearing special outfit. Individual fitting. Rotation on the centrifuge according to the chosen program
Personal certification
Departure from Star city

Note: the cost includes all the necessary permits, medical examination, personal certification, training.

Additional services:

accommodation at a hotel
souvenirs
photo and video shooting of your training

Formalities

You should send in your application at least 14 days before the Centrifuge training with the passport data of all the participants enclosed. Only people of 18 years and older can take part in the training.
You should be medically examined and certificated with a permit for training. Your medical certificate is a personal document and only doctors will have access to this information. In case you don't pass the medical examination and thus cancel the training, the payment will be returned with the deduction of the medical examination cost.
Centrifuge training should be paid 10 days before the date of training according to the agreement and invoice.
After the instruction and medical examination you should sign the agreement on the release from responsibility.

+7 (495) 506-32-23

+7 (495) 662-45-99

For more information about the organization of the program please contact our managers by phone, e-mail or Skype.

HAVE A QUESTION?

Feel free to use our contact form to send online message. We will answer you shortly.