Survival training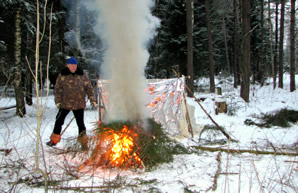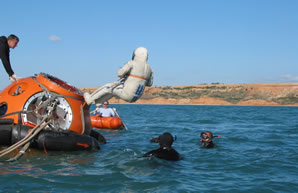 It is well-known that during a space flight different off-nominal situations may happen. But besides that, during the space flight training it's important to consider such emergency situations when it becomes impossible to continue the flight and the crew has to return back to the Earth with the help of emergency survival means.
The forced (emergency) landing can take place on any unpopulated hard-to-access terrain in various climatic and geographical regions or in the aqueous areas of the World ocean. Therefore, the crew might have to stay for a long time in conditions of independent (autonomous) existence, and favorable outcome will mainly depend on its ability to survive.
Survival implies active, expedient actions to be undertaken in order to preserve life, health and the work capacity under the conditions of autonomous existence during 2-4 days, until rescue groups manage to help them and evacuate.
Forced landings of the crews of t heSoyuz-18-1 spacecraft in Altay Mountains in April 1975 and of Soyuz-23 spacecraft on the lake Tengiz in October 1976 confirmed the necessity of such survival trainings.
Specialists who carry out cosmonauts training affirm that the survival and rescue training is one of the most difficult types of physical and psychological training both for cosmonauts and for people who arrange it. The influence of low temperatures during the winter training, unbearable heat in desert in summer, strong rocking in the sea – all these climatic and geographical factors considerably complicate cosmonauts' survival training and make it a real examination of their organisms' capacities, professional and leadership traits of character.
At the same time this survival training is an excellent chance to prove yourself and others that you are a real leader and nothing in this life is impossible for you. During this examination you'll find out that you are capable of working in a team and of making the right decisions in really difficult situations severely limited in time.
Toss this challenge to yourself and you won't lose!
Formalities:
You should send in your application at least 30 days before the "Water survival training" with the passport data of all the participants enclosed.
Only people of 18 years and older can take part in the training.
Water survival training should be paid 21 day before the date of training according to the agreement and invoice.
+7 (495) 506-32-23
+7 (495) 662-45-99
For more information about the organization of the program please contact our managers by phone, e-mail or Skype.
HAVE A QUESTION?
Feel free to use our contact form to send online message. We will answer you shortly.