Egress-2 simulator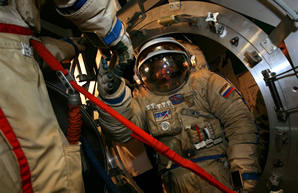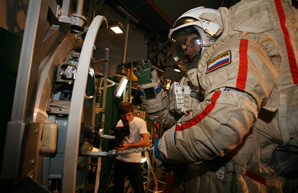 To be an astronaut in the open space is such a stunning outstanding performance, and a very complicated job as well! Just imagine, how can they stay in a support-free space wearing a huge spacesuit, staying outside their space home, when the endless space is around, and to work for hours there – isn't it really breathtaking!? Meanwhile this kind of activity is also a routine for astronauts-heroes and nowadays this is a rather regular operation performed by every expedition onboard the ISS.
In order to prepare astronauts for such a complicated mission, it's important to train such skills here on EARTH. The primary place for such training is the Neutral buoyancy laboratory or the hydro laboratory in GCTC. But the world's unique and only Egress-2 simulator is also one of the important training facilities for this purpose. It can also simulate space walk in the special spacesuit, only without water, and with the help of a special support system which creates a support-free condition.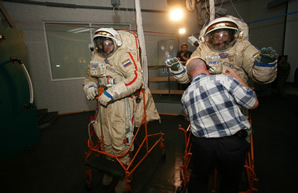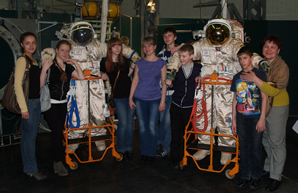 Orlan spacesuit which is used for this kind training, weights more than 100 kg and it's an autonomous mini spacecraft, having all the necessary life support systems inside. So you really will be able to perform a space walk – an unforgettable adventure! Under control of professional instructors, those who train real astronauts, you will learn the basics of the spacesuit's design and layout and try to control its systems. You will also try to perform some standard astronauts activities and will gain some skills of working in the support-free conditions.
+7 (495) 506-32-23
+7 (495) 662-45-99
For more information about the organization of the program please contact our managers by phone, e-mail or Skype.
HAVE A QUESTION?
Feel free to use our contact form to send online message. We will answer you shortly.