Neutral Buoyancy Laboratory
Attention!
Neutral buoyancy lab is not available now for visiting due to maintenance works.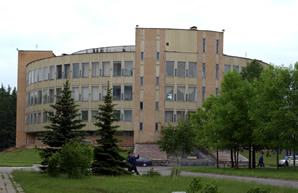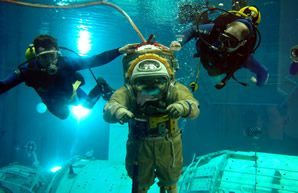 We are offering you a unique opportunity to feel yourself a real cosmonaut working on the external surface of ISS in the ORLAN extra-vehicular suit by diving into Neutral Buoyancy Laboratory.
Various training facilities are used for cosmonauts' extravehicular activity (EVA) training. The main of them is Neutral Buoyancy Laboratory of Gagarin Cosmonaut Training Centre. Here, under simulated weightless conditions, crews acquire skills for accomplishing operations on the external surface of the orbital station.
Neutral buoyancy — is one of the most effective means of simulating the extra-vehicular activity conditions. This method is based on putting space modules, vehicles and EVA-suit donned cosmonauts in the swimming pool under conditions of neutral buoyancy, indifferent equilibrium and unsupported state.
This hydro lab is a complex training installation that comprises different technological systems and equipment. The main part of Hydro lab building is a cylindrical tank, 22.5 m in diameter and 12 m in depth, with water temperature 30±5° C. There are 45 windows (0.6 m in diameter each), which are located on three horizontal levels, corresponding to the different depth, as well as two windows (each has the size of 1.2 х 0.85 m), which enable observation and control of the test and training operations. Volume of a swimming pool is about 5000 cubic m. The water undergoes a special treating and allows a video-and photo filming through windows and with the help of the cameras placed in pressurized casing directly under water. In the hydro lab there are full-scaled simulators of Russian segment of ISS, of space vehicle "Soyuz TMA" and other equipment.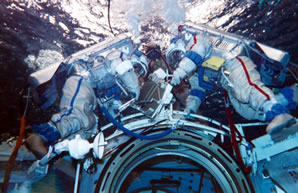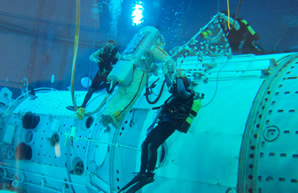 The cosmonauts train in the «Orlan-M» EVA-suit mock-up which is an air-conditioned model of a real extra-vehicular suit for operation in outer space. It has one single difference from the real EVA suit — it doesn't have an independent life support system. Air, required for breathing and water for operator's body heat removal are provided by the swimming pool «beach» systems. Operation in the extra-vehicular suit mock-up allows to acquire skills and to master all EVA operations in Earth conditions.
The compartments and blocks of space stations mock-ups completely correspond to the exterior of the actual orbital complex.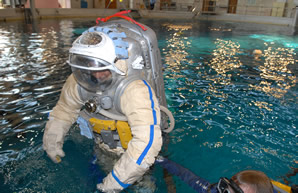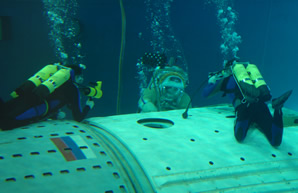 You should send your medical certificate by fax or e-mail 5 days before the training.
Before the training day you should arrive to GCTC for medical examination.
Program:
Arrival at Star city
Medical examination. Instruction on safety arrangements and rules of behavior in case of off nominal situations
Wearing of special outfit. Individual fitting. Training in the hidrolab according to the chosen program
Personal certification
Departure from Star city.
Note: the cost includes all the necessary permits, medical examination, personal certification, training.
Additional services:
accommodation at the hotel;
souvenirs;
photo and video shooting of your training
Formalities:
You should send your application at least 14 days before the training with passport data of all the participants enclosed. Only people of 18 years and older can take part in the training.
You should be medically examined and certificated with a permit for training. Your medical certificate is a personal document and only doctors will have access to this information. In case you don't pass the medical examination and thus cancel the training, payment will be returned with the deduction of medical examination cost.
Centrifuge training should be paid 10 days before the date of training according to the agreement and invoice.
After the instruction and medical examination you should sign the agreement on the release from responsibility.
+7 (495) 506-32-23
+7 (495) 662-45-99
For more information about the organization of the program please contact our managers by phone, e-mail or Skype.
HAVE A QUESTION?
Feel free to use our contact form to send online message. We will answer you shortly.