Space planetarium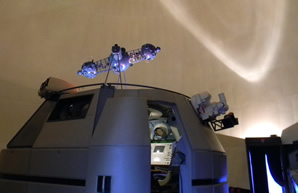 Don't miss the chance to visit our famous space planetarium! No doubt it won't leave you indifferent! This is the place where you can find yourself under the starry skies even in daylight and learn how to recognize different constellations of the Northern and the Southern Hemisphere! Planetarium is meant for studying the celestial sphere and training astronavigation with the help of nominal optical-visual devices.
GCTC Space planetarium is an astronavigation functional-simulating facility created in 1985 on the basis of space planetarium. It comprises:
The Planetarium itself
Computer system, monitoring the training process
Crew capsules with the real console and devices of the main space equipment used by Russian space technologies
The space planetarium created in 1979 is one of the main means for studying the starry sky. It has a diameter of 12,5 meters and projects stars up to 6,5 of optical magnitude thus creating an illusion of watching the celestial sphere outside the Earth atmosphere. That makes the perception of visual environment similar to the conditions of a real space flight.
The astronavigation functional-simulating facility allows not only to project starry sky but also to simulate flight dynamics for different manned space vehicles with moving constellations within the sight of windows and with real angular rates. It makes it possible to train astronavigation skills with the help of nominal optical-visual devices under the conditions close to those of the real space flight.
+7 (495) 506-32-23
+7 (495) 662-45-99
For more information about the organization of the program please contact our managers by phone, e-mail or Skype.
HAVE A QUESTION?
Feel free to use our contact form to send online message. We will answer you shortly.